The morning progressed slowly, as it was still very cold and windy. The inside of the tent was dusted with fine powder which had managed to leak through the mesh windows overnight. This likely didn't help with our congestion.
I know that the trails in this area were marked as difficult but yikes! I was glad we'd decided to just camp near a picnic table instead of trying to navigate them at night!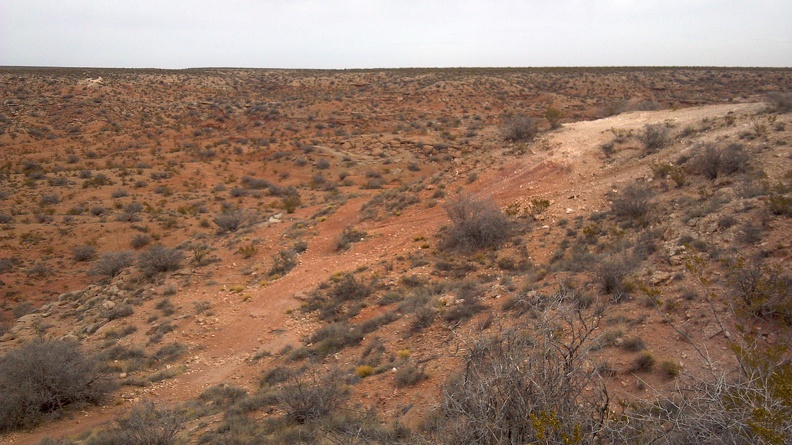 We packed up and headed into town, warming up in a coffee shop for a few hours while I planned our route. I eavesdropped on two nearby women, who were having a fascinating discussion about how they used to work for National Geographic, and their shared passions of travel and caving. I managed to introduce myself and mentioned a free campsite near Carlsbad Caverns called Parks Ranch which I'd been reading about, and one woman's eyes lit up.
Parks Ranch contains a cave system, and she cautioned me to be very careful and avoid it if rain is a possibility. The caves flash flood regularly, and they are a maze-like complex with 8 miles of tunnels, easy to get lost in if you venture far inside. She turned to her companion and said that they would visit those caves later in the summer, but that it would be a through hike, wading through chest-high water. She recommended that I check out Sonora Caverns in Texas, as they are "the most beautiful caves I have ever seen, and I've been caving for over 30 years on five continents". Sold!
After running errands, we made it to Artesia as it got dark, sneaking a free shower at Brantley Lake State Park. We didn't feel like paying to sleep again. A sign directed us westward to Lincoln National Forest, so we followed Highway 137. It was a fun, twisty road that I would love to revisit during the daytime, but we quickly came to realize that the sign was misleading, the forest was almost back to Alamogordo – and there was nowhere to camp nearby.
While turning around, Oz had his first "parking lot" drop, we had pulled over on large, loose rocks and his bike slipped out from under him. We got it back upright pretty quickly, and dodged a few deer on our way back to the highway.
After an unpleasant, slow, cold ride, I found the turn off for Parks Ranch, which was not signed, and did not have an entrance from the southbound direction.
"That rut isn't the road is it?"
"Yep, it sure is…"
Oz did well. It was a bit tricky, lumpy and bumpy, with some large rocks to avoid but not a lot of loose debris. I thought it was fun!
After playing Marco Polo with the GPS, we found the campsite. It was peaceful and quiet, except for a nearby pack of coyotes. We howled back and forth with them for a bit, and I really enjoyed that they answered us. Coyotes are awesome.
Today was Oz's birthday! I mostly napped, as I was very congested and felt sick. Oz went into town in search of cold drinks, returning hours later. He'd gotten lost trying to find the unsigned road, but had a good time exploring without the burden of his luggage.
I figured it was time for some spelunking! The caves were right in the campground, fenced off so children and animals didn't accidentally wander in.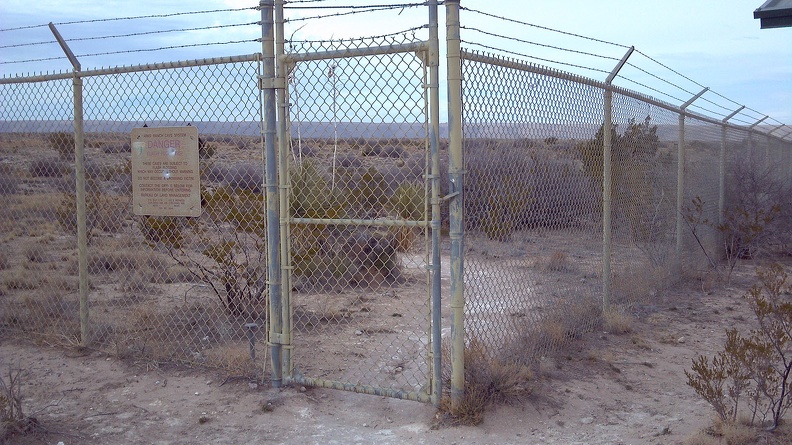 The sign repeated the warnings I was given earlier – don't drown in the cave!
Oz was feeling uneasy so he elected to stay outside. Oh well! I wasn't going to let that stop me. I love caves!
The walls, ceiling, and some of the floor had this great scaly rippled texture. These caves were formed when hydrogen sulfide gas slowly leached through stress fractures in the rock, helping the water to erode it. The gypsum sparkled in the dim light.
Cave crickets were everywhere!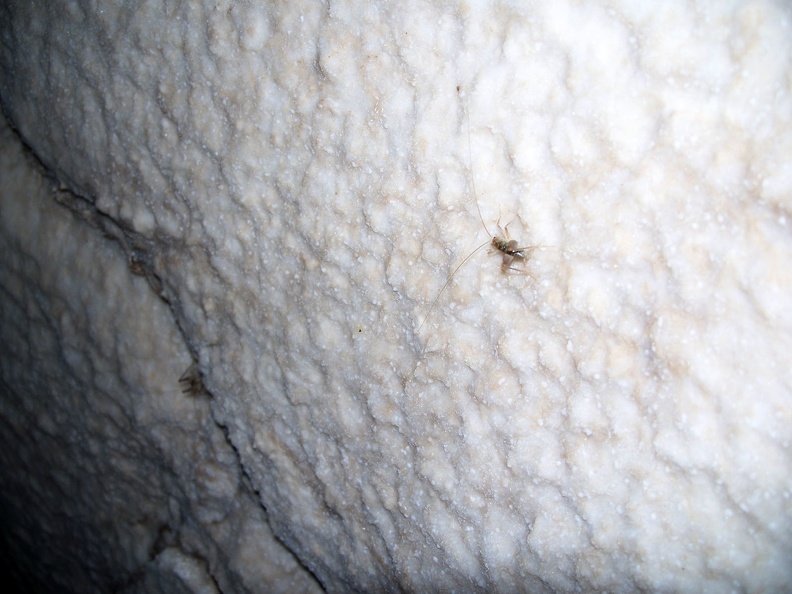 Most of my pictures turned out poorly, due to the small sensor in both cameras. The exception seemed to be macro photos, made possible with flash.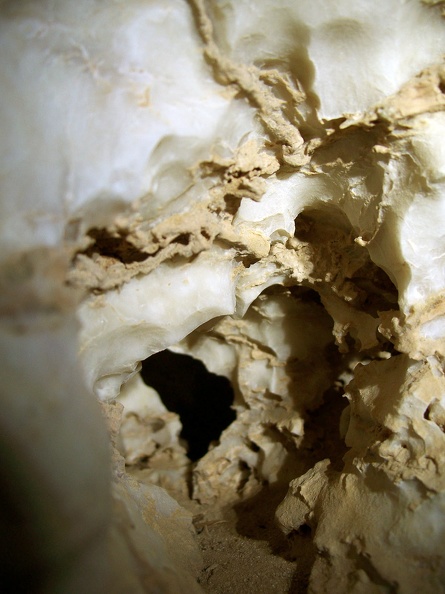 I found some tiny, hairlike crystals. They were soft to the touch and very fragile.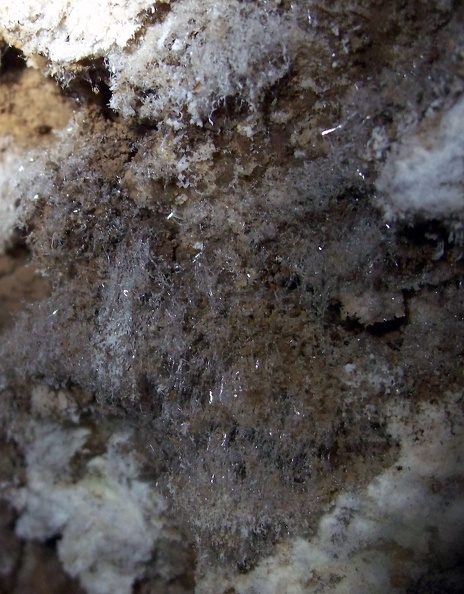 The gypsum was carved into some fascinating designs. One piece was so thin that I could thump it and it would reverberate, like a drum, the echo going deep into the cave.
Encountering a muddy puddle, I doubled back, having no interest in fighting mud and water in order to see more sparkly rocks. After taking a quick break, I decided to duck into the second, lower cave below the first.
Near the entrance, the gypsum was streaked with this green mineral.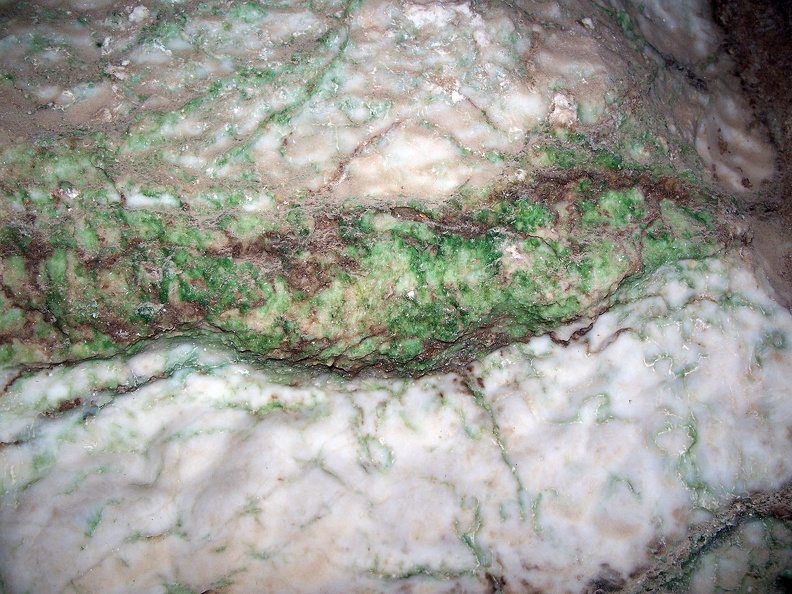 I spent far less time in this cave. Near the exit, the tunnel's smooth walls made me think of a creature boring through the rock, like a gigantic earthworm.
We made dinner and enjoyed a fantastic sunset.